Pea coats were originally used as naval uniforms by both America and Europe. Ironically enough, many military pieces have become common fashion pieces worn by many. The pea coat has been noted to have been worn by individuals since the early 18th century.
Dont get it confused though, the pea coat isn't just your fathers go to winter jacket. It's a simplistic article of clothing that can really up your style and add a dash of class to your winter wardrobe.
When buying a pea coat fit is the most important thing to consider. Nothing is worse than a coat that makes it look you're in a moo moo. The best fit in my opinion that will really compliment your body is a coat that has a length that's midway between your waist and your knees. It should also fit a bit tighter right under the chest around the rib area.
Here are some pics of me sporting my pea coat: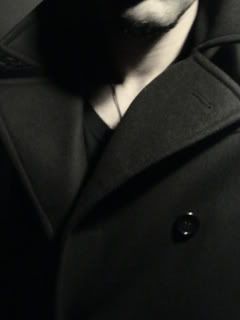 (Yes, I have auto inspired wall border. Jealous?)
Now you might be thinking, "Wait! Is that collar popped?! Isn't that douche-bag-ish"
Yes we all know collar poppin' is a big a no-no when it comes to fashion most of the time. For example we might observe some of our misguided bros sporting a popped polo collar while enjoying a brew. For these articles of clothing a standing collar is not okay! However unlike a polo shirt or a dress shirt the pea coat was actually designed to have a large collar which was meant to stand up to protect ones face from the harsh elements.But if you prefer, its always okay to leave it down as well.

Pea coats come in different variations, with an assortment of buttons, zippers, and straps but it's always best to get one with minimal detail.

Here is one made by Alexander McQueen, which has the perfect fit and the right amount of detailing:
You can see how the pea coat is a bit narrower around the rib cage. This is how most pea coats of this length should fit.
However Alexander McQueen is a bit on the pricier side, so if you're not willing to splurge there are many affordable alternatives that still look great.
Here is a very similar coat made by J Crew which can be had for around $250.
But if you want to be a bit more stylish with your look, the latest trend with outerwear is where the zipper is along the side of the coat and not down the middle.
Which ever style you choose make sure it fits right and it looks clean. A pea coat is an essential piece in any guys winter arsenal. It's perfect for dinners with your lady out on a cold evening. It really shows women that you have sense of class and know how to dress appropriately. So get rid of the North Face puffer and look into a solid pea coat and you'll be sure to impress!